When Sri Lanka gained independence in 1948, the country inherited a host of British criminal laws, and their legacy lives on today. Years later, some of the laws, including those that pertain to bribery and corruption, have not been updated for the 21st century. According to Sarath Jayamanne, Director General of the Commission to Investigate Allegations of Bribery or Corruption (CIABOC), he and his team have received Cabinet approval to move forward with amending outdated laws as a part of a full-fledged effort to rout the culture around corruption in Sri Lanka.
In an impassioned speech at the Organisation of Professional Associations of Sri Lanka, Jayamanne called for deeper, comprehensive and systematic reforms to fight bribery and corruption, "Of course, you have to catch, investigate, and prosecute," he said to a crowded auditorium of public servants and citizens, "but you can't solve the problem of bribery and corruption by merely doing that."
Jayamanne's remarks come on the heels of Colombo Chief Magistrate Ranga Dassanayake's decision to reject bail for President's former chief-of-staff, I.H.K. Mahanama and State Timber Corporation former chairman, P. Dissanayaka, who were arrested in May while accepting Rs. 20 million in bribes from an Indian investor.
Moving beyond prosecution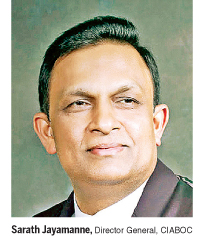 Despite these developments, Jayamanne noted that Transparency International's Corruption Perceptions Index has Sri Lanka ranked at a dismal 91 out of 180 countries - an improvement of only four spots from Sri Lanka's 95th place position in 2016.
Jayamanne said he is looking outside of the country for models of clean government to emulate. "In the British legal system, their main focus is conducting investigations," he said. "That was followed by other countries like Hong Kong, Malaysia, and Singapore." In Sri Lanka, investigation has been less central in efforts to eliminate corruption. Historically, police officers have been responsible for carrying out investigations, rather than experts with a focus in the area of the crime.
"Specifically when it comes to financial crimes, corruption, and asset cases, you need to have a forensic eye," said Jayamanne, who has a background in science and is known for introducing DNA evidence to Sri Lanka's legal process. "You need to have accountants, bond experts, and banking experts," he added. "They will go beyond what is apparent in the bank statement. Unfortunately, up to now, we have never had any graduate, we never had a single accountant, and no one really speaks on the public floor about these things."
Jayamanne also asked what policy and cultural differences allowed Sri Lanka to wind up plagued by corruption, while countries with a similar colonial past like Singapore and Hong Kong have not.
He praised Singapore, ranked sixth on the Corruption Perceptions Index, for making the "honesty of civil servants" their most prized resource and for not hesitating to fire public servants who do not live up to their high expectations. Jayamanne also mentioned Hong Kong's strong corruption policies, which apply just as much to police officers as they do to high-profile politicians. Just last year, former chief executive of Hong Kong, Donald Tsang, was tried for receiving bribes in the form of apartment renovations.
Better legislation
On a government visit to Bhutan, Jayamanne was impressed by the nation's strict gift-giving rules, which made it very difficult for the Bhutan's prime minister to accept a gift from the Sri Lankan officials. "We were shocked," Jayamanne remembered, "because we are a country, where for the New Year, Ramazan and Christmas, we send hampers to everyone."
In order to hold public servants accountable in Sri Lanka, Jayamanne proposed a number of policy initiatives from strict gift-giving rules to conflict of interest laws, which will not allow public servants to favour friends and/or family members in their practices.
According to Jayamanne, direction has been given to the legal department to amend the bribery law and the declaration of assets law. The latter has not been updated in 30 years, and currently, the fine for failing to submit a declaration of assets form is a startlingly low Rs. 1,000.
Jayamanne noted that this is not the only law stuck in the 20th century. Over the last 23 years, not a single word of the Bribery Act has been changed either.
If Sri Lanka is to become a hub for international business, Jayamanne believes it is crucial that the government also hold the private sector to similar standards. "If a member in the private sector accepts a bribe, you can't say it only affects the private sector," said Jayamanne. "It affects the integrity of the entire country. That is why we need to introduce a private sector bylaw."
For Jayamanne, policy initiatives are a key element of change, but in order to fully realise a clean government, he believes Sri Lankans must dig deep, beyond the policies, arrests, and prosecutions, to the very values that define their everyday lives. In places like Singapore and Hong Kong, Jayamanne says people are not as predisposed to compare their financial situation with others. "They don't compete with each other to buy a new house, buy a new car. All people travel in common transport," he said. "In Sri Lanka, we are always comparing ourselves to our neighbours."
Jayamanne believes a culture of materialism and a fixation on money are the underpinnings of corruption, and in order to have sweeping changes, new values must be instilled early on in life. "When a child becomes a public servant, the seeds that were sown 25 years back are still in his mind," says Jayamanne. "If we want to have a clean country, we must start with the children."
While Jayamanne is looking to other countries as models for fighting corruption, his vision has not strayed too far from home. As the Navy adds final touches to the corruption court in downtown Colombo and the court trial of Mahamana and Dissayanka continues, he is also reaching out to the provinces, travelling everywhere from Jaffna to Kandy for consultations with citizens about how to end corruption in Sri Lanka, once and for all.